Girls tennis win conference, places 2nd in sectionals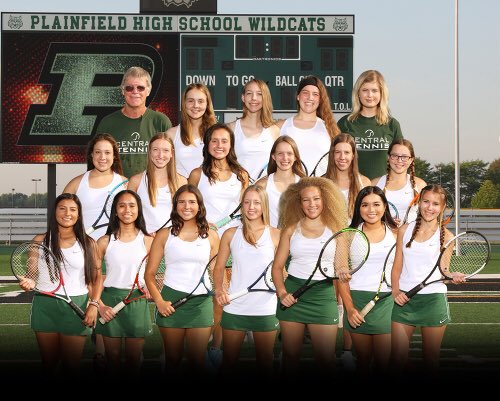 After defeating all conference opponents with a 10-0 record, the girls tennis team won the conference tournament to become the 2020 East Division Conference Champions, and then went on to place 2nd at sectionals.
Four players also qualified for State by placing in the top four of their bracket; however, the State Tournament was canceled this year due to COVID. State Qualifiers included Mikayla Kelly, junior, who won 2nd place in singles, Maddie Kearney, senior, who won 3rd place in singles, and seniors Brooke Cornell and Kaylie Dahms who won 4th place in Doubles.
"I keep myself going in a match by telling myself each point, each game, each set, and each match matters. At any given time in a match, I know I could be the last point the team needs to win the match," Kelly said.
Jaclyn Kwiatt, head coach, says despite their success the pandemic has affected her and her players significantly. 
"COVID-19 has definitely changed a ton of things about our season in the sense of how we can run particles just because there are a lot more things we do to keep the kids in less contact with each other," Kwiatt said. "We've even had to cancel a lot of tournaments with other schools and matches due to not being able to play with other kids outside of the COVID region, but it has not affected our team's morale." 
Her players are dealing with the changes this season, and they have not lost their drive and love for the sport.  Kelly feels that even though COVID has affected their season, it hasn't affected their mindset. 
"Knowing that I have a supportive and strong team behind me pushes me through my toughest matches. No matter what, we are a team. We support each other until the end, which makes us such a close and competitive team," Kelly said. 
Some players feel it just helps them push harder, as well as show more caution during matches.  Cornell knows the risks and knows that they need to be aware of social distancing and being sanitary during games. 
"With COVID, it is very possible for a team to be put on quarantine for 2 weeks, so I have to remember to make smart choices on and off the courts. To keep the team safe, I have been limiting social events and wearing a mask at all times around people. Being put on quarantine for 2 weeks could be detrimental to a team, so it is a team effort to prevent these situations," Cornell said.
Even though COVID is a major part of how their season goes, it doesn't mean they shouldn't work hard. On the contrary, they are just working even harder to better themselves at their craft. 
"When things become hard during a match or competition, to stay in the right mindset, I remember that making a mistake is okay and that I can always correct my mistake to become stronger," Juliana MaCauley, junior, said. "I improve myself during practice by learning from my mistakes. Once I correct my mistakes, I create a goal by focusing on what I want to accomplish during that practice or match." 
The team also works together to help better their techniques as well as how they play as a whole. 
"I think that definitely, foundational tennis technique is necessary," Kwiatt said. "I talked to the kids about making sure that they do the right thing in terms of grip and footwork so that they can build on that skill. You can't build on the wrong thing." 
"You have to do a lot of individual mental strength in order to better yourself and motivate as well – even in hard times – is really important. You have to focus and know that it takes time to learn the skills of tennis. You have to be patient with yourself and also try to have fun in the process," Kwiatt said.