Girls swim works for success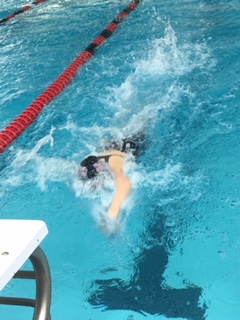 The Plainfield Thundercats swim team met great success during their season and hope to continue this streak next year. While the team roster is made up of girls from all district high schools, 10 girls from Central are a part of the team.
"The 13 girls will have the chance to earn a spot at the state tournament, and it would be great to see all of them on deck," Amber Briddick, head coach, said.
The next step for the girls who qualify is the sectionals meet held at Neuqua Valley High School on Nov. 11. The Thundercats must achieve qualifying times or finish first or second place overall at sectionals in order to advance to the state competition, which will be held on Nov. 17 and 18 at New Trier High School in Winnetka.
One of the biggest goals among the team was to beat their rival, Oswego High School.
"Our coach says we're the bridesmaids to Oswego because we always take second place," Allie Vogen, JV swimmer, said.
The Thundercats weren't able to seize the win in the meet against Oswego, but many of the girls were able to achieve record times.
"The girls' hard work and dedication in and out of the water helps the team get the edge over the other teams," Briddick said.
For many of the girls on the team the offseason is not a time to relax but rather to prepare for the upcoming club season, which takes place outside of school.
"There are quite a few of us on the same club team," Vogen said.
Other swimmers like freshman Emma Darbro are using their time away from the pool to improve in other activities so they can be in shape by the time the next swim season rolls around.
"I plan on cross-training in other sports so that I can ultimately improve my performance in the pool," Darbro said.
Vogen accredits part of the team's successful season to how the team is very close and is comparable to a family. Even though people may think that swimming is an individual sport, it actually requires teamwork and motivation from each other.
"Coach Sam and I are very proud of these girls. All of their determination continues to show," Briddick said.