Girls tennis looks to achieve goals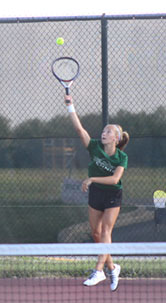 Girls tennis is starting off a new year with new girls, new goals, and new coaches. The new head coach this year is social worker Jaclyn Kwiatt, who has coached boys junior varsity tennis previously.
"For this season, I hope my players continue to improve their tennis skills and their ability to strategize during a match," Coach Kwiatt said. "Overall, my biggest goal is to make sure all the players are having fun and end up liking tennis as much as I do!"
The girls are also setting high expectations for themselves.
"I want to be all-conference and qualify for state," Katie Kearney, sophomore, said.
"My goal is to improve my technique and do well in conference," Jessica Orden, junior, said.
"[I want] to keep my head up and always play to the best of my ability," Marissa Papacek, junior, said.
The girls have had many matches already, such as Yorkville, Addison Trail, JCA, and all Plainfield schools. There have been some schools that have really challenged the girls so far.
The toughest opposing school so far has been "Plainfield North [because] a lot of their players have been playing for a long time and I've only been playing for a year," Kearney said.
"Probably Aurora Christian because they have been playing since they were fetuses," Jessica Plewa, senior, said.
"The toughest school I've faced was Plainfield South because it was my first time playing singles, but it was a lot of fun!" Orden said.
Although the team has had some losses and setbacks, they are expecting a positive season.
"I'm looking forward to seeing how our team does the rest of the season and in conference, because we have a lot of potential, and I'm excited to see how everyone does," Kearney said.
"[I look forward to] being able to see everyone improve and get to where they would like to be as a player," Plewa said. "It's so great to see how hard people work and the reward that comes from it."
Others are taking the season one step at a time.
"[I look forward to] each match itself. Each new match is a fresh start and you determine the outcome," Papacek said.
The girls look to the coaches to help their team become successful.
"Tennis can be a difficult sport to teach, and a difficult sport to learn. Tennis coaches should have patience in teaching their players and have faith in their ability to improve over time," Kwiatt said.
The girls really like the coaches and are glad to have them part of the team.
"The coaches are always willing to help the players out," Kearney said. Despite some losses, the team won't "let" anyone make them feel inferior, and plan to finish strong.