Varsity plans to break streak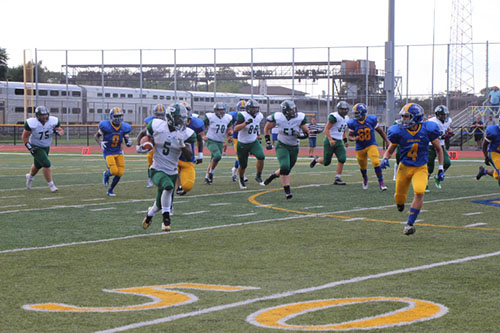 Varsity is striving for a winning season after three years of losses.
"The new program seems to be working well. We got a new coach who brings a new atmosphere," Jordan Saxon, junior, said.
Many of the varsity players believe the new optimism and hopefulness is due to the new head varsity coach, Jon Pereiro.
"The new coach is a great guy who really knows what he's doing. He's taken over the program pretty well," Cameron Serecone, senior, said.
"I really like him, he's a respectable guy," Tanner Evatt, junior, said.
Returning players have noticed differences in several areas.
"Tryouts were pretty hard. He expects a lot more of us this year, which I think is good, and a lot of us made it, which is great," Joshua Linke, senior said.
Coach Pereiro is not the only change the varsity will see this season.
"The varsity is starting a whole new era: Mr. Pereiro has taken over as the new coach, new turf, and new jerseys. It's really changing the face of the program," Principal Dave Stephens said.
The team is getting in the zone as they change their plays and expectations.
"We've completely changed our mentality, which is really what we needed," Nick Prah, senior said. "I've experienced my fair share of losses, but I think that going to change this year. We're looking a lot better; and there will be a lot to look forward to."
The varsity is also putting to work the ideals of teamwork and dedication.
"The best part is having a bunch of brothers around. We all look after each other, and we're just one big family," Linke said.
"They're pretty cool guys, I love to hang out with them. They always have my back, and we're there for each other," Serecone said.
The varsity football team is ready to turn a new leaf and lead this school to the playoffs and beyond with the motto "1-0," which means they look at each game individually.
"To me it's just putting in everything you have and not thinking about the score board or end result. Just taking one play at a time," Captain Adam Hayes, senior said.