NHS To Induct New Members
Students strive to be the best they can be, and 111 students will now have the opportunity to become their best selves as they are inducted into the National Honor Society (NHS) next Friday, Apr. 20.
To be inducted, students must receive an invitation either their junior or senior year. They also must have a 4.5 weighted cumulative average. Students must also demonstrate high quality leadership, service, and character during their first two and a half years in high school. Many students are proud of being invited to join.
"NHS is for the best and brightest juniors and seniors and I felt that I was part of that group. I want to be an active force in this school and the community, and NHS gives me the opportunity to do so," Rishad Dharani, junior, said.
Students are sent invitations near the end of March. It is not required for students to accept their invitation, but it is highly recommended.
"You will not have the opportunities in any other organization to make a difference in society like those that are in NHS. The membership strives to be the best at all times," Karin Walker, English teacher and NHS sponsor, said.
NHS is a student lead group that works to create opportunities and enhance leadership and service to bring out the best in each of its members.
"NHS is a great way to meet like-minded people and expand your friend group while participating in fun, service oriented activities," Anna Rowzee, junior, said.
NHS is not like any other service group as it is student run and is for a specific group of students who all have similar goals and ideals.
"I joined NHS hoping to find a group of people who shared the same values as me and who had a desire to actively help others," Rowzee said.
NHS gives students who believe in a tight knit community, as well as supporting those around them, a place to share the ideas they have.
"It allows those who are active to see the benefits of giving to others. Our job is to be selfless and advocate for others," Walker said.
While building leadership abilities, NHS also gives back to the community and teaches students what it means to make a difference in society.
"I have seen students become great leaders as they develop programs to assist others. Stepping outside your bubble is key in NHS," Walker said.
NHS allows students to build their future and provides an additional, and compelling, extracurricular.
"NHS will definitely help me in the future because it is a nationally recognized program that I can put on college applications. Also, the communication and leadership skills I learn there will help me in my career," Dharani said.
Here is a full list of inductees :
Megan Abellera, Skyler Acosta, Mikayla Ahern, Beatriz Amaya, Jakyra Anderson (Sr), Olivia Arriaga, Alixander Awalt, Charles Bischoff, Taylor Bishop, Lauren Blaskey,
Jianna Bocconcelli, Grace Brock, Daniel Carter, Eljen Caseres, Christopher Cockrell, Katelyn Connerty, Stephanie Cornelius, Claire Culberth, Hannah Cure, Hannah Darbro, Carter Day, Zachary Deleon, Rishad Dharani, Justin Divelbiss, Abigail Dolata, Seyla Evans, Kelina Evans, Brandon Fearday, Lucy Feliciano, Noah Franceschini,
Shane Franzen, Ian Freeman, Amanda Gaile, Javier Garcia, Jonathan Goetsch, Alicia Goluszka, Antonio Gonzalez, Savannah Gonzalez, Alejandro Guzman, Margaret Hamby, Andrea Heagney, Brooke Henderson, Giavana Hill, Elizabeth Hsieh, Alexander Ilibasic, Payton Irwin, Ashley Jesionwski, Janeese Juarez, Katrina Kearney,
Ethan Kelly, Matthew Krafcisin, Kellie Kuehni, Vasilina Lesiv, Erin Liebermann, Alexandria Loera, Megan Loghry, Lillia Louis, David Lozano, Ana Macha, Mason Magemeneas, Alyssa Marroquin, Alexandra Martinez, Jason Mayfield, Patrick McCormick, Jude Mendoza, Corey Micheals, Alexis Moisan, Julyana Moreira,
Carolyne Moreira, Pia Moscoso, Camryn Muir, Meghan O'Leary, Peyton Osgood, Claire Palmer, Yaritza Patino, Rebecca Patush, Brant Plowman, Isabella Prado, Natalie Prena, Darren Price, Meghan Prior, Madison Rambo, Ryan Robinson, Anna Rowzee, Julia Ruch, Corryn Russ, Cole Schreiber, Connor Sheetz, Katherine Shook,
Madeline Smiles, Jade Smith (Sr), Julia Smith, Kaylee Smith, Suliana Solano, Taiya Stelmachowski, Kathryn Strand, Gabriella Temko, Isabelle Todd, Stephanie Torello,
Regan Trueblood, Tyler Tuason, Angelina Vascik, Guillermo Vasquez, Nasa Vo, Alexandra Vogen, Trevor Wagnon, Heather Warfield, Kaeli Welsh, Ben Wielgos, Iris Wright, Andrew Wyckoff
About the Contributor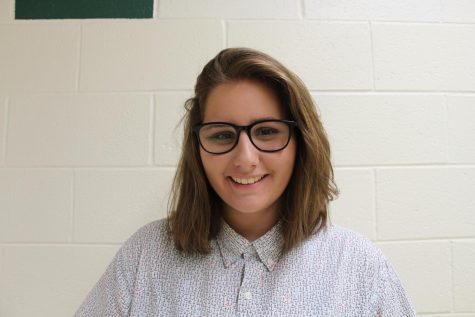 Shannon Tierney, Editor-in-Chief
This is my 4th year on staff with the Fielder!