Clubs are meeting! Check here for times, dates
Updated club Information: October 2020 
 Speech Team: All grades welcome, join Oct. 30, 2020, virtually for the new members meeting. Please email Mrs. Kukuk or Mrs. Thom for Zoom login information. Practice weekly with times varying on the practice schedule.  
Chess club: Meetings, practices, and competitions will take place virtually. Meetings will be once a week starting in November. All grade levels welcome – we are looking for new, interested faces to join. Please contact Mr. Bloodgood with Zoom information or questions.  
Spanish Club: Attention all, Spanish club will be meeting October 29, 2020, virtually. Members will prepare a delicious dessert and watch the movie COCO together. Spanish club will also meet Nov. 5 as well.  Students who are interested in joining should visit the Teacher Page for Xiomara Cole to get the zoom link and Google Classroom information. We will meet every other Thursday at 3 p.m. using the zoom link. 
BeYOU-ty project: Save the date, April 24 and 25 BeYou-ty project is hosting an all-female retreat 10 a.m.-4 p.m. to promote self-worth and self-acceptance all student-led with supervision. The event will cost $10, which includes a T-shirt and lunch. Transportation will not be provided. Please contact Mrs. Flow or Mrs. Capshaw with any questions.  
Book club: Book club's next meeting is Nov. 4. and we will meet twice a month. Students will get together to discuss the latest trends in YA literature, book to movie (or series) comparisons, and play games that are "bookish." Please contact Mrs. Marcum with any questions or for zoom information.  
Math Team: Looking for any student willing to challenge their mathematics and enjoy a little competition, the math team will have their first meeting virtually Monday, Nov. 2. The first competition has been scheduled for Jan. 27, and practices will be every Monday. Please contact Mr. Nessley with any questions. 
Wildcat Cares club: This club is open to anyone that wants to join and help fundraise money for pediatric cancer research and Lurie's Children's Hospital. Wildcat cares club will be having their first meeting Nov. 3 at 2:15 p.m.. Here is the link to join the Band and to get notifications! https://band.us/n/abaf42Qbga70s    Please contact Mrs. Jefferey with any questions. 
French Club: Anyone interested in French culture and fun Frech club will be meeting Oct. 29 -we will reveal our Tour de Plainfield jersey and treat winners. And Nov. 12- we will have an online "French cuisine with Madame" meeting where we will be preparing some French food together while apart. See above for meeting information. Please contact Mr. Rodeck for zoom information.  The rocks will be in parks around Plainfield beginning in November. If you find one – take a picture and email [email protected] or tag us on twitter @phsccfrench 
FCA Club: FCA stands for Fellowship of Christian Athletes.  It is a National club run at many middle schools, high schools, and colleges throughout the country.  A place where students of faith can gather and focus on serving local communities around the globe by engaging, equipping, and empowering coaches and athletes to unite, inspire, and change the world through fellowship in Christ. Students can join the Google classroom FCA Join code is (Class key, ke45dy2) Students also need to sign up for the club through our activities account at https://plainfieldcentral.8to18.com/accounts/login 
About the Writer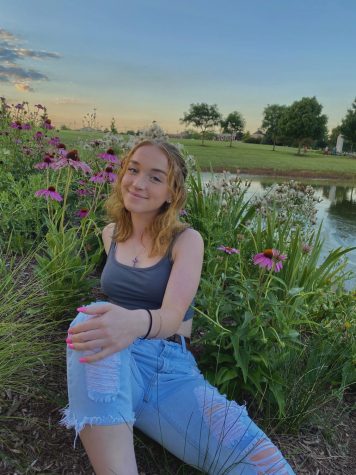 Paige Williams, Opinion Editor
My names Paige Williams I'm a senior and editor for the Fielder, I enjoy playing softball and going on drives outside of school and being involved with...