Bottle cap project dedicated to Durso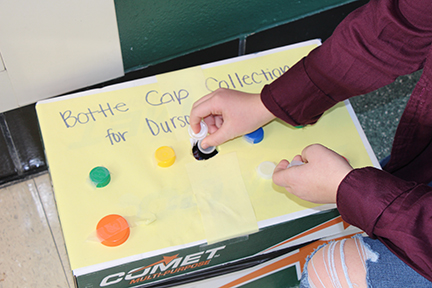 BioExplorations club is collecting bottle caps to create an ADA picnic table in honor of Deb Durso, former dean, and her son Michael. The project will be donated from the 2019-2020 class. There are boxes placed around the school for students and staff to drop their bottle caps into so they can be saved for the project.
"Since plastic doesn't break down in the environment, we want to give all that single-use plastic another life as something permanent and useful," Madelynn Battles, senior, said.
The project originally started out as a 'buddy bench', which would be donated to a 'Green House' elementary school in the area. However, the club decided to dedicate it to Durso and her son after their passing last year. The picnic table will be wheelchair accessible, in honor of Durso's son, who was bound to a wheelchair.
The company, Greentree, will take the plastic and melt it down to create a table. Deb Pohlmann and Jenna Krusz, science teachers, oversee the project. They must figure out the pricing for the table once they have enough supplies to send out.
"This is 2018 information, but it was 550 pounds and it's $585. It might be a little bit different [this year]. Oddly enough, we've actually had people who offered to make cash donations. National Honor Society and Student Council, if they needed to contribute funds, they were more than willing to," Pohlmann said.
The project will cost money to make, and the bottle caps are being counted and weighed to see their potential for use. They must have a certain number of caps, or else they won't be able to create the table. Students have been placing caps into donation areas in the building to help.
"We need a lot of caps, which is why there are boxes around the school," Mia Listello, senior, said.
Even though the cap collection is important for the project, many staff and students are reinforcing the fact that this is in dedication to the Dursos. Durso was a staff member in the district for twenty-one years, and she made an impact on those she was around.
"She was here a long time and she touched a lot of people… she brought her son to many, many events here at school," Krusz said.