Spring break stay-cations abound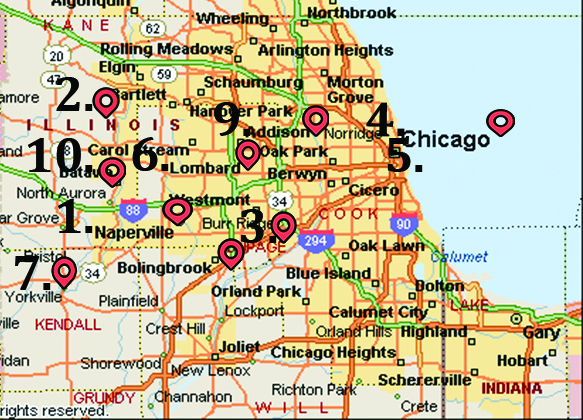 Spring break- the week you have been waiting for since January. No school, nice weather… but you have nothing to do. Instead of vacationing in Florida and Colorado, you can spend your week in the Suburbs doing fun activities you didn't know were around.
1. Color Me Mine (Naperville)- Spend any rainy or indoors day at Color Me Mine- a paint-it-yourself ceramics studio. When you walk in you pick any type of pre-made pottery, sit down and choose your paints from a large selection. Paint a beautiful piece and once you're done, the staff will fire it and in a few days your masterpiece will be ready for use.
2. Waterfall Glen Forest Preserve (Darien)- For a nice day, explore the 2,500-acre forest that houses the beautiful Rocky Glen waterfall, Poverty Prairie, and Bluff Savanna. The preserve includes an 11-mile trail open to hikers and bikers as well as many unmarked footpaths.
3. Cantigny Park (Wheaton)- This beautiful oasis includes 29-acres of pure floral gardens, a 2 ½ mile trail, two history museums, and golf course, and after your day of adventuring, you can stop at any of the four restaurants on the grounds for a lunch or dinner.
4. Museum of Contemporary Art (Chicago)- Tired of the older art exhibits at the Art Institute of Chicago? Check out the Museum of Contemporary Art. The museum includes interesting contemporary artwork and sculptures dating from 1920s to present. Admissions is free for ages 18 and under, $8 for students and teachers, and free to Illinois residents every Tuesday.
5. Eataly (Chicago)-
If you ever find yourself in downtown Chicago, doing timeless touristy things, check out Eatly on Ohio St., a food-court-like market full of Italian classics ranging everywhere from pasta to desserts to seafood to pizza. This eatery is a definite for spring break bucket lists.
6. WhirlyBall (Lombard)- Try a new game this spring break with Whirlyball, a combination of bumper cars and lacrosse, then play a round of classic laser tag afterwards. A 30-minute walk-in session of WhirlyBall or laser tag costs $15, and you must come with a team of at least four to participate in WhirlyBall.
7. Geneva Kayak Center (Yorkville)- Whitewater rafting doesn't always have to be done in the mountains- sometimes the perfect spot is nestled in the suburbs of Chicago. The Geneva Kayak Center, located along Yorkville's riverfront, provides tours, lessons, and rentals to those who want to either whitewater rafting, tubing, kayaking, or canoeing down the Fox River.
8. Cascade Drive-In (West Chicago)- Catch a movie under the stars at the classic drive-in theatre located in West Chicago. This theatre plays double features at night starting in April, rain or shine so you will never have to cancel these plans due to the weather. Admission is $10 for adults and pets are free! Stop at Scooby's Hot Dogs next door for a bite before or after the films or check out their full-service concessions stand.
9. K1 Speed (Addison)- Take the race indoors at K1 Speed, an indoor go-kart racing facility. K1 Speed is a great place to go on a rainy day with your friends as you challenge them to race around the track with you on the highly-advanced electric karts. Prices start at $22 for one race, but they have a three for $33 special every weekday. Although a little pricey, this classic, adrenaline-rushing experience is a must this spring break.
10. Philips Park (Aurora)- The "crown jewel of Aurora parks" puts all other parks to shame. The 325-acre park contains so many wonderful things to do over spring break. Their amenities include places such as a zoo, dog park, a one-mile trail with fitness stations, a lake with boat dock, sand volleyball courts, a BMX/skate park, tennis courts, the Sunken Gardens, and more.