"Wakanda Forever," honors Boseman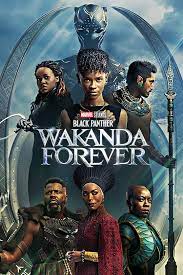 Black Panther: Wakanda Forever was a beautiful film and one of the best Marvel Cinematic Universe Phase 4 releases.
The film is a sequel to the 2018 film Black Panther, which starred the late Chadwick Boseman, who died of cancer in August of 2020. The film was critically acclaimed and well-liked outside of the Marvel fandom, as it highlighted African-American culture and featured a mostly African-American cast.
The original script for the sequel was changed due to the tragic death of Boseman. Within the first ten minutes, the film acknowledges Boseman's death by having his character die without revealing how and incorporating a memorial. Personally, I was moved by the characters' reactions to T'Challa's (Boseman's) death; it didn't feel like acting. I had the impression that I was watching the actors grieve for their friend, rather than the characters mourning their hero.
Many fans and viewers were outraged by the press during the film, as many people saw it as exploiting Boseman's death. However, the writing and directing decision to acknowledge his death within the film was the right choice because if they hadn't, the film would've felt strange not acknowledging the Black Panther himself not being in the film. Rather than exploiting his death, they honored him. 
Grief is a centerpiece throughout the film, especially for Angela Bassett's character who played T'Challa's mother. Angela Bassett delivers a performance worthy of an Oscar nomination; in one scene, Bassett yells about the death of her son and how much she has suffered for her country of Wakanda. Throughout the entire scene, I had goosebumps. Basset was the film's backbone; whenever she appeared on screen, I knew I was going to be moved.
Despite the sadness, this is a Marvel movie full of action and a compelling villain named Namor. This character is intriguing because he has good intentions to protect his country, even if he does cruel acts in order to do so. Personally, I found his character refreshing because it was complex and made the movie feel more like a superhero film than just a memorial. Namor acquires a bit of a redemption arc at the end of the movie; however,  it seems that Namor still has his villainous tendencies within him, leaving me excited to see what is next for the character.
Black Panther: Wakanda Forever is a well-rounded movie with a compelling villain and an emotional storyline. I was worried that this sequel would not live up to my expectations since the first movie was so loved; however, it exceeded them as I was thoroughly impressed by the film. I give this movie a 5-star rating and feel it deserves a mention in Oscar hype. Wakanda forever!