Demi re-enters music scene with heartfelt album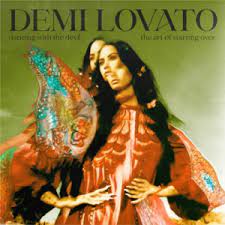 Demi Lovato's album "Dancing With The Devil…The Art of Starting Over" encapsulates who she is and what she has been through.
  On the Billboard Top 200 Album Chart, the album debuted at No. 2. and is also the most-streamed pop female album of the year so far.
  Lovato opens up about her eating disorders, sexual assault experiences, and the near-fatal overdose she experienced in July of 2018.
  The album's first song, "Anyone," is Lovato's first song she performed since her overdose and hiatus. Lovato's belting throughout the song represents her cries for support during her relapse. The song is almost a contradiction with its peacefully slow tempo. The song's tempo is calm, but the singer herself is not.
  The album's lead single, "Dancing With the Devil," freely discusses the tragic night that nearly claimed Lovato's existence. "I told you I was okay, but I was lying/ I was dancing with the devil, out of control/ Almost made it to heaven, it was closer than you know," the lyrics go on to say. The song is currently No. 56 on the Billboard Hot 100 chart in the United States.
  But, the best song is her long-awaited duet with Ariana Grande, "Met Him Last Night." Fans have been waiting for the singers to collaborate for years after they expressed an interest in doing so. With its brilliant harmonies within the song, it did not disappoint.
  Lovato also has a collaboration with Miley Cyrus' sister, Noah Cyrus. The song "Easy" is a heartbreakingly beautiful song about a toxic relationship and realizing that it's time to leave, despite the fact that it's not "easy."
  Demi's fans will be able to see a new side of her with this album. It's also inspiring to see Demi speak her truth, and it's eye-opening for others, including myself, who are unaware of the challenges of addiction and how difficult it can be.
  I'd give the album a three out of five-star rating because I think she does a good job of capturing her story, but her music doesn't really develop to match today's current hits. Overall, the album was an excellent gateway for Demi to express herself and re-enter the music industry. Welcome back, Demi!