Marvel produces time traveling delight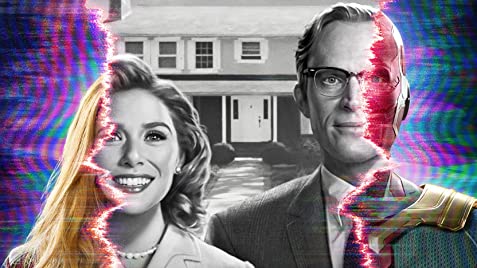 Joining the Marvel cinematic universe on Disney Plus is WandaVision. It is a new show that hops back and forth from past to present. The styles of the episodes are like sitcoms, from 1950 to the 2000's.
The main characters are a newlywed couple that has superpowers. They get into all sorts of trouble like a dinner with Vision's boss from his computer job. At the dinner, Vision's boss ends up choking on a piece of meat while the boss's wife is thinking that he is joking and messing around. In the scene the music stops, and it is dead silent. Finally, Wanda tells Vision to help him. With his powers vision pulls out the food his boss is choking on and saves his life.
Every episode is different, meaning that every episode is in a different era. The first episode is in the 50s, the second is in the 60's and so on and so forth. But some episodes are also in the present. In the present it is in the aftermath of the snap from Avengers: Endgame. There we follow an agent in the organization known as S.W.O.R.D, and she is tasked to find out the weird occurrences in a town called Westview.
For instance, a couple of episodes later Wanda and Vision have twins who grow up at an alarming rate. Their next-door neighbor ends up helping them out a lot in the episode. In one scene a doctor comes to help deliver the babies and as vision is walking him out the doctor tells him, "I wish I could go on a vacation and leave this town for a little bit, but you know what they say about small towns, they are so hard to leave." Vision then wonders why he said it was hard to leave. They could easily just drive out of the town and that is that. In the same scene he went to talk to his neighbor and his neighbor said something odd. He said, "it's hard to leave this town because you physically can't leave."
The visual effects for this scene are particularly good, from Vision going from robot to human. The acting is also good, because they took characters who are superheroes and made them into a married couple.
In the most recent episode, we see Wanda go and try to retrieve Vision's body so he can have a proper burial, but the S.W.O.R.D organization would not let her take his body. So, she left, but when she got in her car, she saw a note sitting on the passenger seat, so she read it, and it told her to go to the town of Westview. She drove to an address and when she got there, she opened the letter. We can now see that the letter was from Vision before he died, and it was a house that they were going to build and live in together. She then goes into the middle of the torn down house and cries. At the end of the episode, she spreads her arms and a burst of energy flows out of her and turns the whole town back into the 1950s, when Vision is still alive
I really enjoy the show so far. They come out with a new episode every Friday and are still making episodes. For me being a Marvel fan, I really enjoy that they decided to make this series into a show instead of a movie.
I would give WandaVision a five out of five stars. This show embodies the creative and unqiue styles that Marvel Studios never fails to deilver upon for their fans.
Every epiosde will have audiences on the edge of their seat. It is a must must watch for anyone of all ages, epsically die-hard Marvel fans.