Sam Smith produces new, refreshing sound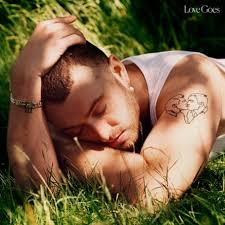 Sam Smith's long-awaited album "Love Goes" shakes up the pop genre, proving why they are one of the biggest pop stars of this generation. After the release of the single "Fire On Fire" in 2018, fans have been patiently waiting for the past two years for a full album release.  
"Love Goes" is a new sound for the artist from Smith's previous one. Unlike former albums, "In The Lonely Hour" and "The Thrill Of It All," which primarily consist of emotional ballads and heartbreak songs, this album blends both emotional ballad and dance-pop tracks, giving the album a new depth and granting fans a multidimensional listening experience. 
The fresh new experimental sound reflects Smith's personal struggles that have been building up over his lifetime. In an interview with Zane Lowe, Smith said, "The last two years have been a really, really mad time of experimentation, of finding myself with my gender expression, with so much that has happened the last two years. It's captured in this music." 
The eleven-track project offers the most variety that can fit any mood of the day. Tracks like "To Die For" and "Breaking Hearts" are the typical heartbreak anthems usually associated with Smith's discography. Songs such as "Diamonds," "How Do You Sleep," and "Dancing With A Stranger" redefine the typical sad song by contrasting the deep, emotional lyrics over an upbeat dance track, creating a melodic harmony.  
The crystal-clear tone Smith presents over the whole project alongside the magical production is pure euphoria. Electronically based songs even have pockets of beautiful violin and piano sections that blend perfectly. Producers Jimmy Napes, Steve Mac, and more input their own touch into every one of these songs, making each one independently unique.  
Fans can physically hear the heart and soul the artist poured into this album. Lyrics such as "God, I dodged a bullet I ran fast right through it I love myself too much to fight you but oh, congratulations," leave with every word embedded deep into the hearts of listeners.
"Love Goes" marks the beginning of a new maturity for the British artist. Every track on the project strikes gold leaving no skippable moments. Love Goes gets a perfect 5 out of 5 stars for the impressive variety of songs, angelic vocals, and stellar lyricism. I recommend this to any music fans who are looking for a fresh new take of the generic pop-genre.