The Neighborhood creates multi-dimensional musical experience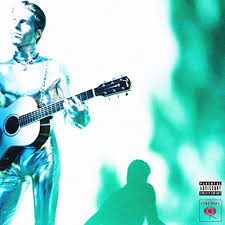 The Neighborhood's new album "Chip Chrome & the Mono-chromes"proves why they are one of the top bands in the indie-pop genre. The album highlights the psychedelic vocals of Jesse Rutherford and genius instrumentation of Zach Abels (guitar), Mikey Margott (bass), and Brandon Fried (drums). 
 Their debut platinum selling album "I Love You" lead the band into the radio airways with their smash hit "Sweater Weather." After their massive success, the band released albums "Wiped Out," "#000000 & #FFFFFF," and "Hard To Imagine The Neighborhood." Their new album however gives Rutherford a way to redefine his voice through these 11 songs.
 The biggest achievement of the album is the brilliant production. Known for their calming and overall leisurely vibe, Chip Chrome & the Mono-Chromes spotlights Abels, Margott, and Fried. The evolution of their music over the years has allowed for a change of the group's sound, giving it a more dynamic and mature distinction.  
 The breakout song of the setlist would have to be "Lost in Translation." The song is the pinnacle of what a great catchy pop song needs, fantastic vocals, great supporting band, and a flawless hook. The song shifts its tempo as the chorus comes in, and with that change listeners are up on their feet singing the hook, "I've been gettin' lost in translation. Trouble keepin' up communication."  
 My two personal favorites would have to be "Cherry Flavored" and "Devil's Advocate." These songs embody what fans expect from the band: beautiful melodies, simple lyrics, and entrancing vocals. The vibe of these songs can easily put listeners in a euphoric state and forget the troubles the world around them brings.  
 Every song on the project has its own special qualities which gave it an unskippable quality. In comparison to other artists in the pop genre such as Justin Bieber and Niall Horan, The Neighborhood strikes gold. They give listeners a much-needed break from the same old standards listeners are used to. The experimental sound of the group perfectly allows for fans to be entranced by the hypnotic sounds. 
 Overall, I give Chip Chrome & The Mono-Chromes 5 out of 5 stars due to the excellent  production and vocal stylings of the group. I recommend this album to anyone who is looking for a calming drive or to people who are needing a break from a stressful day.