Ecstatic audience praises American Author release of new EP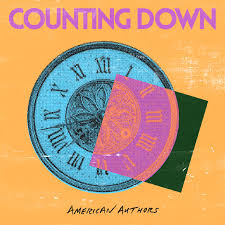 American Author's long-awaited EP (extended play record) "Countdown" leaves both new and long-time fans winded with the ecstatic, upbeat, and motivational energy it brings to the table.
The band consists of Zac Barnett, lead guitarist and banjoist James Adam Shelley, bassist Dave Rublin, and drummer Matt Sanchez. They kicked off their band while attending Berklee College of Music in 2006 under the band name Blue Pages. It wasn't till 2012 they changed their band name to American Authors.
While Countdown was released on Sep. 18th, they released many of the singles before then such as Microphone and Best I can. In an interview with Shock Ya News, American Author's vocalist-guitarist, Zac Barnett said, "'The Counting Down' EP started as a batch of songs written for fun following the release of 'Seasons.' We spent four days in Nashville before a show and knocked out the songs you hear here."
The EP itself only contains five songs: Countdown, Brick by brick, Sky's the limit, Microphone, and Best I Can. My personal favorite song is Brick by brick. The song consists of an energizing beat that describes overcoming setbacks by keeping in mind your long-term goals and thinking back to where you started. They preach no matter how difficult the obstacles you come across to tear down those walls "Brick by brick."  The bass gives the listener a taste of strength and motivation, and I would recommend it to anyone who's looking to start off their day getting pumped and hyped up.
"Countdown," is most similarly compared to a mixture of the bands AJR with their funky alternative music and The Score with their motivating and signature strong bass. However, despite American Authors being an alternative music band, most of their songs could also fit into the pop genre and fit in with a lot of the new pop hits today.
Overall, I rate the EP 4.5 stars out of 5 for the positive energy it illuminated. The only drawback was all of the songs seemed a bit too similar to each other, and without listening to the lyrics it could be a little confusing which song it was. I recommend this album to pop, rock, and alternative band fans or anyone who enjoys today's hits because it's quite similar to the type of popular music that's being released currently.