Netflix's Never Have I Ever captures real teen problems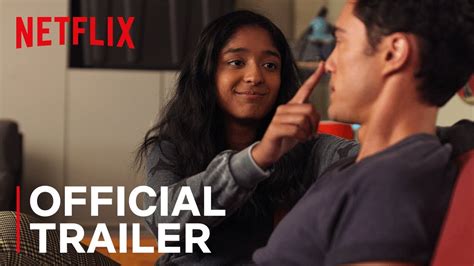 Who ever thought that a show titled after a kid's party game would create such a beautiful and quirky story about a teenage girl struggling to balance her home life and high school while also discovering who she really is?
Never Have I Ever is a new Netflix series, released on April 27, that is based on director Mindy Kaling's own childhood. It centers around the character of Devi Vishwakumar (Maitreyi Ramakrishnan), a 15-year-old Tamil Indian American high school girl from Sherman Oaks, California. After a horrible freshman year, Devi wants to change her social status, but it isn't she as easy as she thought.
After Devi's father, Mohan (Sendhil Ramamurthy) passes away she tries to deal with her grief while also struggling with her relationship with her controlling mother, Nalini (Poorna Jagannathan). She leans on her two best friends, Eleanor (Ramona Young) and Fabiola (Lee Rodriguez) as she tries to focus all her sorrows into enchanting her high school crush, Paxton (Darren Barnet), and finally defeating her rival classmate, Ben (Jaren Lewison).
Even though none of the leading actors/ actresses have stared in a project like this, apart from Poorna Jagannathan who portrayed Safar Khan in HBO's Emmy-nominated show, "The Night Of" among other roles, they acting could only be described as immaculate. The rawness of the emotions draws the viewer in and invites them to connect with the characters. There is especially something so gut wrenchingly painful about the occasional flashbacks of Devi with her father that can bring tears to any viewer.
Were some of the plotlines predictable? Yes, but that is to prove the point of connection between the viewer and the character. Most teenagers have problems like Devi such as navigating relationships, fighting with friends, and figuring out who they want to be. What would be the point of creating a show based of real life if they don't use real life problems?
The show hit the jackpot with their writing team, led by Mindy Kaling and Lang Fisher, as the scripts for every episode didn't disappoint. There is a certain magic of this show as viewers can easily transition from tears of sadness to tears from laughing too hard. The comedy element was always genius as Devi's ideas and awkward moments with other charters became outlandish.
The character development from the first episode to the last created an impressive amount of depth and vulnerability for each character. Yes, the storyline is around Devi, but the show is true to the fact that everyone one has problems that they face, especially in high school. The viewers can see why characters act the way they do and see a different side to them. This tactic helps viewers understand the character more and, in some cases, they like or dislike a character more than they originally did.
Overall, with the beautiful storyline, amazing script, enticing acting, and incredible character development, I give this show 5 stars and I think the 97 percent on Rotten Tomatoes would agree.