Astroworld astounds audience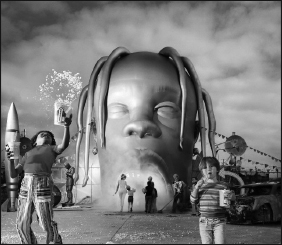 Famous rapper Travis Scott has finally put an end on the wait for his anticipated album, "Astroworld". He released his album on Aug. 3, after his live performance at the music festival Lollapalooza hosted in Grant Park, Chicago.
Compared to the other mainstream tracks and albums that debuted along with Scott's album such as "Queen" by Nicki Minaj and "Slime Language" by Young Thug, he hit No. 1 on the charts two times, along with all 17 tracks appearing on the prestigious Billboard 200 (Billboard.com).
The album exceeded my expectations because it differentiated between the last two albums: "Rodeo" and "The Birds in the Trap Sing Mcknight". That is because the album was composed by rock band Tame Impala, which distinctively widened the versatility in Scott's music; in comparison to the last two albums that present unique "trap" style beats.
This type of change has not impacted his fans' insight on the album negatively; it has done the contrary: it created an oversight on the rapper's style and influenced the hype for his album. Also, "Astroworld" has featured artists like The Weekend, Gunna, Young Thug, Drake and many more, which includes some of them in my favorite songs: "Wake Up", "Can't Say" and "Yosemite." These specific songs don't only feature some of my favorite artists, but I believe that they are the best collabs compared to the rest of the songs on the album. They also all reveal a part of Scott's new style while keeping the beats similar to his traditional songs.
Additionally, the rapper's album merchandise had continuously sold out after multiple restocks and so have the tickets for his Astroworld theme park festival in Houston, Texas. Scott's success on the album has produced a vast fortune for the rapper and according to the website Genius, it marked the second largest sales debut of 2018.
The amount of attention that has been received on the album has done it justice, and I would definitely recommend that others listen to the album immediately. I rate the album 5 out of 5 stars.