Stranger Things is Rare Find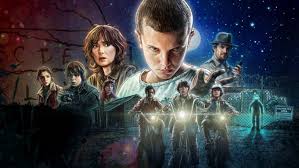 Stranger Things brings to the table a revolutionary creation in the mystery genre. With a loveable cast, a plot that keeps you on your toes, and a setting that makes the show all the more eerie, the new Netflix series has a lot going for it.
In the quiet little town of Hawkins, Indiana, an electric powerhouse is producing much more than just electricity. The company- entitled "Hawkins Power and Light" – has been running illegal experiments on different types of monsters., and unfortunately for the town of Hawkins, two have escaped.
One of the test experiments is a deformed creature who lurks around, looking for its next victim. The other is one that goes by the name of Eleven (Millie Bobby Brown), is a young girl with superhuman abilities.
The main plot follows the story of Dustin (Gaten Matrazzo), Lucas (Caleb McLaughlin), and Mike (Finn Wolfhard) as they search for their missing friend and try to avoid the demonic presence that haunts the land. The cast runs into Eleven – or "El" for short- who seems to know something about Will Byre's (Noah Schanpp) disappearance.
The primary downfall of Stranger Things is how the focus strays from the main plot. For example, minor characters such as Lonnie Byers (Ross Partridge) or Nancy (Natalia Dyer) will also make sudden apperance in some episodes. And although incorporating a little character background to a storyline never hurts, an excessive amount can take the main focus off what really matters.
Minus a few lackluster characters, overall Stranger Things has a good, strong cast of members. Though most are not as well known as, say, Widonna Ryder, each character portrays his or her character with a sense of pride and believability.
Stranger Things is a show whose cast is fresh, the entirety of the setting is rich with variety, and from the unsettling forest to the small town of Hawkins, never fails to amaze.
Overall, Stranger Things is a TV show that encompasses a wide range of genres, and is more than certain to appeal to horror aficictiantos, mystery enthusiasts, and even the occasional romance lover. I give Stranger Things five out of five stars.