Bowling strikes success, focuses on team rank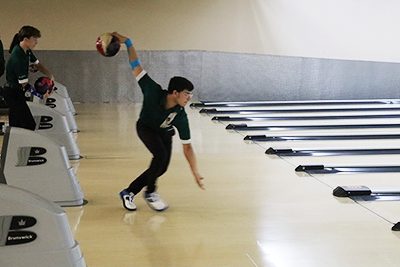 The bowling team has been successful, right now they are ranked 4th in conference.
The team is led by Head Coach Nicole Jensik, junior Jacob Chavez, and senior Nick Alloco.
"My mindset going into the season is to beat what I did last year and to know that there is always room to improve. I also see a lot in our team that we can beat what we did last year and go for our goal," Chavez said.
The team practices for multiple hours every day after school to make sure each member's skills are where they need to be. The team competes against many different teams in the area such as Yorkville and Joliet West.
"I am looking forward to Saturday tournaments the most this season. They are always so exciting having so many great teams competing for 1st place and just seeing in general how our team ranks among some of the best teams. Saturday tournaments are also great because the teams and the audience get so loud so it's just an exciting time overall," Jensik said.
The team consists of juniors and seniors,and some are multi-sport athletes such as juniors Krys Baker and Frankie Roberts. When these two aren't in the bowling alley, they are also playing football.
Last year, Chavez went all the way to state as a sophomore on varsity, and is looking to make it to state for the second year in a row. During the offseason, Chavez travels all over the country competing in many different tournaments. Somedays, he would leave school early to go to bowling tournaments in places such as South Carolina.
"One of the main things we look for is having great sportsmanship and being a team player, it is extremely important to be able to bowl as part of a team and not just an individual," Jensik said. This season is also Jensik's first year as the head varsity bowling coach.
One of the top up-and-coming bowlers on the team is Colin Elder. A few weeks ago at practice, Elder bowled his first perfect game scoring 300. When Elder isn't in the bowling alley, he also runs Track and Cross Country.