Military recruits high school students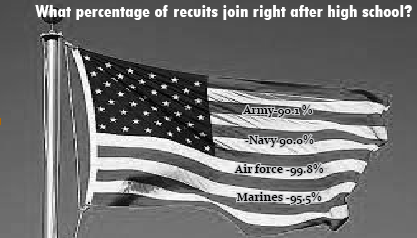 Military recruitment is recruitment for high school students, to join the military voluntarily.
Now the military has brought the recruiting to high school it would seem high school students would be their best-targeted group. 17-year olds are young and early adults figure out their life and find themselves and the military could be their way. The military offers hundreds of jobs and opportunities after service life. The military might also be appealing to those who have family in the military or want to go to college after or before the service.
"I pick the Army because my brother and my uncle are both in the national guard." Isaac Dean, the senior, said.
Here are some brief descriptions of the branches accroding to military.com. The Army defends the landmass of the U.S., its territories, commonwealths, and possessions. The Navy maintains, trains, and equips combat-ready maritime forces capable of winning wars, deterring aggression, and maintaining freedom of the seas. The Air Force focuses on flying and airman work on flight support missions.
The Coast Guard provides law and maritime safety enforcement, marine and environmental protection, and military naval support. The Marines are a part of the Department of the Navy and operate in close cooperation with U.S. naval forces at sea.
Activity duty member benefits from the Military include the GI Bill which pays for education for soldiers. Healthcare for dental and medical additional you can also add on your children and spouses. Up to 400,000$ in life insurance also cash allowances for housing. And 30 paid vacation days each year compared to the 14 days a regular job would give.
There is a lot of students and young adults that are trying to figure out what to do with their life. Jobs in the military include but are not limited to nurses, psychology, firefighter, musician, military police officers, doctors, engineers, dental specialists, and plumbers.
"In the military, there are 150 plus jobs anywhere along of the lines you could be a photograph to a carpenter… "…4 years of activity duty and when I get out to become a firefighter.." Christian Bernaro, senior, said. "A lot of people don't know that jobs in the military mimick daily jobs only difference between civilian and military is our is our uniform," Staff Sergeant Gamez, said.