Madrigals Renaissance concert opens tonight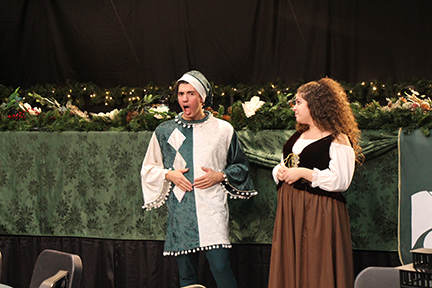 The annual Madrigals performance will be held in person on Dec. 10-11 at 6:30p.m. in the auditorium, but without a dinner, so admission is free.
"Due to COVID-19 restrictions, we are unable to continue the dinner show format this year. This year's performance will be presented in concert format, allowing for more audience members to enjoy these wonderful ensembles," Nathan Rancatore, choir director, said.
Students are excited to be able to perform in this traditional holiday event.
"Madrigals is a singing/acapella performance that creates the renaissance time where you dress up in renaissance costumes and sing," sophomore Sabrina Rodriguez said.
The renaissance had a very different style of music back then compared to music today, and students had to audition to be a part of the performance.
"Early in the year, students audition for placement in either Madrigal Singers or Madrigal Ladies. Both groups rehearse over the course of the first semester and prepare repertoire that spans from Renaissance to modern in preparation for these performances," Nathan Rancatore said.
Students have been practicing since the beginning of the year, partially on their own.
"Having to learn the music on our own and then coming back with everyone to find balance with everyone's voices and tunes and having to connect with them is very hard and stressful to do," Rodriguez said.
These students are pushing themselves to go forward with Madrigals and have a successful performance.
"My cousin and some of my friends were in Madrigals, and they said it was fun and they had a good time doing it, so I wanted to become a part of it and to challenge myself," junior Abby Sheetz said.
Covid created challenges, but the show will go on.
"I lost motivation because we were not able to practice all the time, but I'm still pushing myself to go forward," junior Mia Walstrom said.
"Covid delayed a lot of things, but I wanted to have a good last couple of years and do more through the school year," junior Noah Matl said.