Thriller refreshes fan with unique, mysterious plot line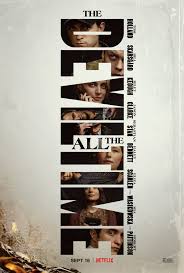 Remember Tom Holland? Your friendly neighborhood Spiderman? The British actor stars in "The Devil All the Time" playing a psychologically damaged teenager named Arvin, which allows for him to dive deep into the dark and twisted side of the human psyche, and he plays it to perfection. 
Most of the film follows Arvin, who as a young boy goes through a traumatic childhood. At the age of 7, Arvin's mom was diagnosed with cancer. As a result of the diagnosis, Arvin's father scarifies the family dog asking God to cure his wife. After the sacrifice fails and his wife dies, Arvin's dad takes his life, leaving the young boy to find his body. Orphaned, the young boy goes to live with his grandma and adopted stepsister Lenora in Coal Creek, West Virginia.
As the teenage years approach Arvin, he develops a twisted sense of justice and does anything to make sure evil acts don't go unpunished, even if that justice turns violent. As Lenora begins getting bullied by boys at school, Arvin sees to it that these boys are punished; this is the start of Arvin's violent path. 
There are plenty of three-dimensional characters who play a role in the film, but the one who stood out the most was Preston Teagardin, played by Robert Pattenson. His portrayal of the corrupt reverend who takes advantage of sweet Lenora, played by Eliza Scanlen, makes audiences want to jump through the screen and invoke viewers' own sense of justice.  
 With a cast of Hollywood heavy hitters such as Bill Skarsgard, Patterson, and Sebastian Stan, to say the expectation for "The Devil All the Time" to be a success is an understatement. The film is an adaptation of the Donald Jay Pollack book of the same title. For the limited amount of time given, the film crammed interconnected storylines spanning over decades without gaslighting the audience with information. 
The one thing I must commend the movie for doing was never leaving the audience bored. Audiences never knew what was going to happen next, whether it be two characters that weren't expected to be related or how director, Antonio Campos, was going to connect all the different story arcs into one cohesive plot.  The pacing of the movie never dragged and every scene had its own importance that lead to the shaping of the dynamic plotline. 
Overall, considering the grade A screenwriting, brilliant acting, and gripping story, "The Devil All the Time" gets 5 out of 5 stars. I would recommend this movie to anyone who loves the thriller genre and is looking for a great Netflix binge.