Chris Chlebek announced as next year's principal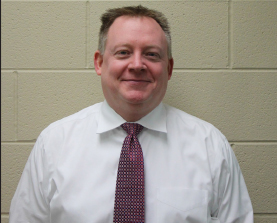 Chris Chlebek, assistant principal of education curriculum, will become the new principal next school year, after Dave Stephens, current principal, will be retiring.
"It feels absolutely exciting. This is where I first started teaching, and to become a principal here is very valuable to me. It is something that I have dreamt of ever since I was teenager," Chlebek said.
After 35 years working in the district, being a principal, a history teacher and a coach, Stephens feels that it is time someone else takes the position.
"I am definitely going to miss it [the kids], the constant interaction and watching kids grow, it is the greatest job ever," Stephens said.
According to Chlebek a primary focus for his upcoming year will be put on "making a place where the staff and students feel safe, feel comfortable within themselves, and to maximize their potential".
Other goals Chlebek has planned is to try and meet as many students as possible and ask them how he can make the school a better place for them.
Chlebek has been a part of the district since 1998, and was a history teacher that has taught many present history teachers in the building such as Darren Kobliska, Nicole Koleno, Patrick Hanley, and Rebecca Thom, ASL teacher.
"As a teacher, Mr. Chlebek was always approachable and genuinely cared about the best interests of his students. He's been a respected teacher and administrator in our school district for over twenty years and he understands the values and traditions of the Plainfield community," Kobliska said.
As for preparation for the new position, Chlebek will be shadowing Stephens, meeting different staff and district members, and meeting with each department to discuss their opinions on the school and how they can make it better.
"There are a lot of families and students that don't know me yet. I'm new and I'm different; I'm not him [Stephens] and that is the challenge. I want to ask how else can we make the students stronger and how we can serve the community," Chlebek said.