J. Cole returns in style with KOD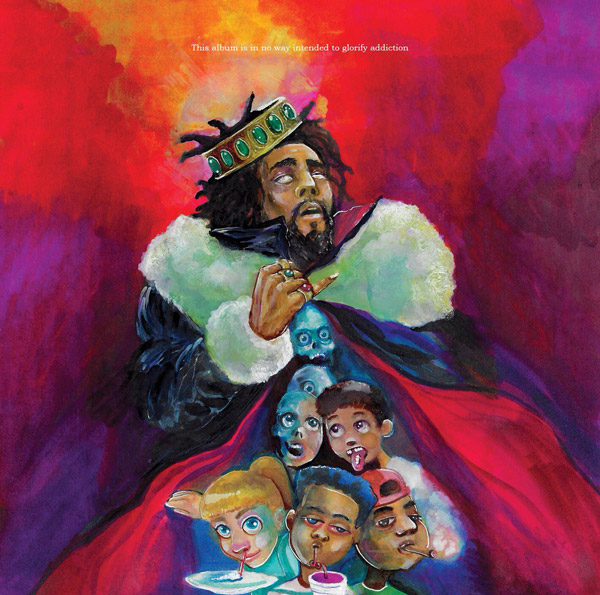 "The real is back, the Ville is back, flow bananas here peel this back." Jermaine Cole has dropped a new album titled: KOD. Cole says the album name has three meanings: 'Kids On Drugs', 'King OverDosed', and 'Kill Our Demons'.
The album contains 12 tracks, 11 of them are different from the usual J. Cole sound his fans are used to. He uses beats and chorus schemes that are popular for today's 'rap' music, songs that typically glorify the usage of drugs. However, Cole takes these beats and uses them to bring out positivity and to push his message against those 'rappers' who popularize drugs.
In a few songs such as 'The Cut Off' and 'FRIENDS', Cole uses an alter-ego: Kill Edward. Many were surprised to see someone featured on a song as Cole is now popular for going platinum with no features on his third album 2014 Forest Hills Drive, but he tricked everyone as Kill Edward is just Cole's voice distorted to sound different.
A lot of people criticize J. Cole for being 'boring' even though many of his songs contain a relatable message and Cole does have fantastic flow. However, I enjoy how Cole addresses this by using popular beat schemes and more simplistic choruses than normal. Songs like 'ATM', 'Motiv8' and 'Photograph', all have 'turn up' style beats, which is something I was not expecting.
Cole notes in the very last song '1985' that music like this was just a 'segue'. Ironically enough, the song before 1985 is called 'Window Pain (Outro)' signaling the end of KOD. The song '1985' is fully called '1985 (Intro to 'The Fall Off')', so many speculate that 'The Fall Off' is Cole's next album and may signal his retirement from the rap genre.
Cole is still relatable to his fans with songs like 'BRACKETS' which speaks on the insane amount of taxes that Cole pays, as well as 'Kevin's Heart' where he speaks on temptations of cheating.
The beauty of the album is that it was almost suddenly released, and Cole throws out a different sound than most are used to, and it comes together perfectly on this album. Though his previous albums, 'Born Sinner' and '2014 Forest Hills Drive' are still his top two, 'KOD' could easily be his third best project. KOD should earn a 4 out of 5 on anyone's scale, whether they like J.Cole's old work or not.