'You People' delivers important message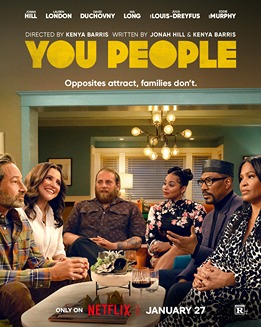 "You People" is a new Netflix movie that was released on Jan, 27. This film is a romantic comedy directed by Kenya Barris, starring Jonah Hill, Lauren London, and Eddie Murphy.
The plot focuses on an interracial couple and how their families reckon with modern love amid culture clashes, societal expectations and generational differences.
Ezra (Jonah Hill) has his own podcast and talks about events happening in the world. It starts off with Erza going to the Jewish Temple with his family and not caring about his culture. All of these people are coming up to Erza and he is becoming very uncomfortable with the things people are asking him.
Amira (Laura London) is a young, hard-working woman who just started a new job and is trying to find her groove. She meets Erza when she gets lost trying to find her new job, and Erza thinks that she is his Uber. After they meet, Erza asks for her number and they set up a lunch date together.
Akbar (Eddie Murphy) Is Amira's dad and is introduced when he and Amira meet for a coffee after she meets Erza. Akbar is very old-school with everything he does and likes to think of life as the good ole days.
The movie sticks to the plot very well and doesn't really go off at all. I think the movie is very entertaining; every scene just gets more funny. The first main scene when Erza is in the chapel is humorous due to Jonah Hill's comedic timing and experience he has with this genre of films.
I would recommend this movie to a lot of people, but I would not too little kids. There is a lot of swearing in almost every scene and the things being said are not kid friendly.
I would give this movie 4 out of 5 stars. This is a great movie to start off the new year. If someone is into comedy or is into Jonah Hill and Eddie Murphy, I would definitely recommend watching "You People."