"80 for Brady" huge hit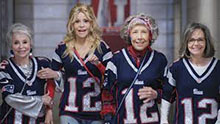 "80 for Brady" is a comedy film that was released on Feb. 3. This film is based on a true story of four best friends who loved Tom Brady and have always dreamed of seeing him play in the Super Bowl. The movie stars Jane Fonda, Sally Field, Rita Moreno, and Lily Tomlin.
The movie starts off with talking about the backstory of how the ladies got into watching every Patriots game–mainly to see Tom Brady. Lou (Lily Tomlin) was diagnosed with cancer and the rest of ladies all came to support her. The TV was turned on and randomly switched to a Patriots game, and the first thing the ladies saw was Tom Brady.
The beginning of the journey to the Super Bowl begins after the Patriots won the AFC Championship and advanced to play the Atlanta Falcons. All the ladies ever wanted to do was see Tom Brady play in the Super Bowl in person. Lou ends up getting tickets for her, Maura (Rita Moreno), Trish (Jane Fonda), and Betty (Sally Field). 
The journey ends up becoming a fiasco when Betty loses the tickets while participating in a hot wings challenge. I thought this was very entertaining because she was the oldest person participating in that contest and she ended up winning. Eventually, the ladies get the tickets back. When they get scanned to get into the stadium, the tickets ended up being fake. 
So the ladies end up sneaking into the game multiple times and end up getting into the Patriots coaching staff booth. At this point, the Patriots are down 28 to three. Lou begins to talk to Tom Brady and gives him the motivation to come back and win. I thought this scene was great because no one would expect four women in their eighties to sneak into the coaching staff's press box.
Overall, this is a great movie. I would recommend this movie to anyone. This movie is family-friendly, some swearing every now and then but very family friendly. I would give this movie four and a half stars out of five.