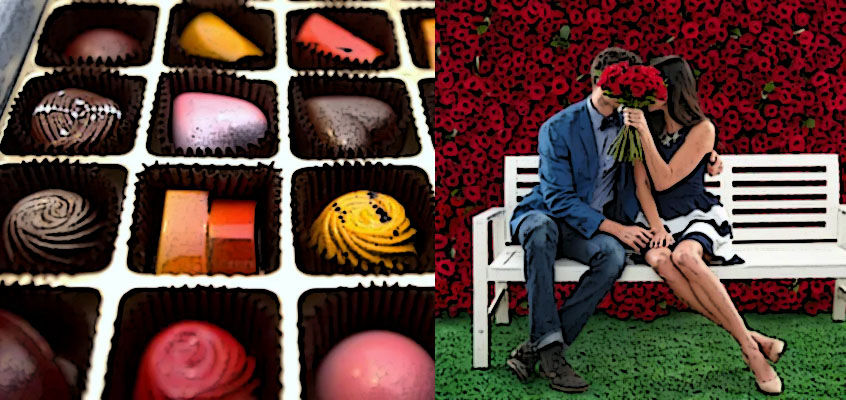 Valentine's Day: chocolate or flowers
February 1, 2023
Valentine's day chocolates
With Valentine's Day quickly approaching, many couples rush out to buy their significant other loving gifts. There is the annual question of which to buy, flowers or chocolates?
Valentine's Day has been seen as a traditional holiday since the late 1800s' with flowers and chocolates being the one of the most popular gifts given. However, chocolates should be number one.
Although flowers can be a great surprise, after the initial reaction there isn't much benefit from the gift. After a week the flowers are dead and the loving thought is forgotten.
On the contrary, chocolates are a gift that can be shared between both parties. Memories of sharing a sweet dessert can be made and cherished forever.
According to the Australian Academy of Science, chocolate contains a chemical called Phenylethylamine. This chemical stimulates the brain and causes the human body to feel happy and giddy, which can cause your partner to fall more in love.
Chocolates can also be bought to impress your partner. Due to the variety of chocolates, remembering someone's favorite flavor can make the gift even more thoughtful.
Even though the variety for flowers is twice the amount of chocolates, not all flowers represent good meanings. According to Victorian flower language, if someone's favorite flower is yellow carnations, gifting them a bouquet of these symbolizes disappointment and rejection.
This year, instead of gifting a bouquet of domesticated weeds, give your significant other a gift that will truly make them happy, a box of chocolates!
Leave a Comment
Valentine's Day flowers
You open the door and smile widely. In front of you is the most exquisitely beautiful bouquet of red roses staring back at you. It is February 14th, Valentine's Day, and your significant other presents you with this ravishing gift.
While chocolates are a delicious gift to give on Valentine's Day, flowers are definitely a far more meaningful gift to receive. They are meaningful because the type and color of flowers each have a unique meaning.
For example, red often represents passion, devotion, and romance. That is why many people give red roses to express love. Chocolates cannot be identified by color, much less have meaning behind each one.
Chocolates are delicious, but eating more than a couple could get overwhelming. After all, there is a limited variety to choose from. To name a few, there's white, dark, and caramel chocolates. On the other hand, flowers have a wide variety of options to choose from. You can choose Carnations. They represent pride and admiration. Or Chrysanthemum, because they represent loyal love. 
Additionally, according to a study done by Professor Jeannette Haviland-Jones, flowers are proven to be positive emotion inducers. They promote positive moods and improve memory as well. What a plus!
Chocolates are temporary, one bite and the sweetness only lasts for a couple of seconds. Flowers can last many days with proper care and are a beautiful sight to look at.
According to a recent poll, 59.4% of students would love to be gifted flowers rather than chocolates. Clearly, many people feel the gift of sincerity from flowers.
Obviously, any gift on Valentine's Day would be incredibly sweet, and chocolates are yummy, yet flowers are such a romantic gift! 
Leave a Comment