Kendrick Lamar delivers top tier album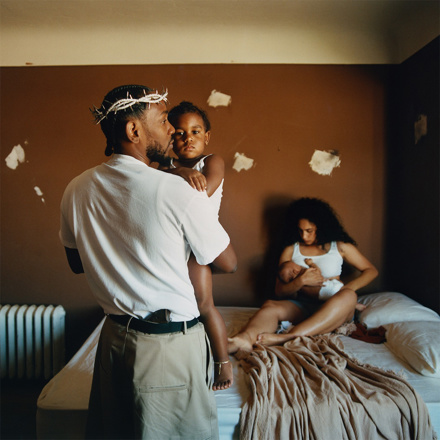 With 2022 coming to an end, it's time to choose an album of the year.  Starting off the year strong The Weeknd released his album labeled " Dawn FM" a project that in terms of production and theme was once again tip-top. He tried a new sound and new flows, which fans had to transition into. However, overall it was a solid album released, which is why it deserves an honorable mention. 
Some other honorable mentions have to be "Un Verano Sin Ti". The album has no skips. And even breaking Spotify's record for most streams in the first month of the album. Now being the Latin artist with the most number-one hit singles this album for Bad Bunny was a big milestone and a big breakthrough.
Other breakthroughs include Harry Styles releasing " Harry's House" giving people upbeat tunes to jam out to for the summer of 2022. "Harry's House" broke the record for most vinyl sold from its debut on Friday to Sunday. Harry's sales surpassed Taylor Swift's "Red" vinyl sold. Its replay value is very strong and definitely, and a lot of people will be coming back to this album.
 Of course, we cannot mention the best album of the year without including Taylor Swift's "Midnights" album, giving a sense of freedom. I have never been a Taylor fan, but I always expect Taylor to produce a well-done album, and she indeed did deliver for her fans. A soothing, and slow-tempo album that gives everyone reminiscing times and memories. 
We also can't forget this year's green beans to mainstream music. Although Steve Lacey is a veteran of this being in the group "The Internet" with memorable songs like "Girl". Steve Lacey really broke out into mainstream music by being on the radio, and being number one on Billboards Hot 100 for three weeks straight. 
Then we have Brent Faiyaz, another artist that really emerged in mainstream music with Wasteland producing a well-thought-out album with themes, and implementing skits to provide a more artistic view on his album, which was such a wonderful touch. With all this in mind, there is one artist that really covered everything in terms of the value of an album. 
Kendricks's album "Mr.Morale & The Big Steppers" is truly the best album of the year. Continuing his ambitious projects it feels as if Kendrick Lamar has never left the game for five years. Its repeat value is super strong and definitely, and album fans and new listeners will come back to it for sure. In terms of production, Kendrick dips his hand into all categories of genres. Reaching for the symphony of blues with Sampha, and being rigorous in other tracks. Not to mention that Kendrick really dove into touchy subjects that mainstream music is not willing to step into. I can't fathom anyone else making it this big, and constantly being consistent with providing knowledge to the people. 
This album truly was eye-opening for many people. Touching on traumas, insecurities, and struggles people really do deal with and making into art. He didn't make music; he made art, and that's why it deserves album of the year.