High school sweethearts aim to beat odds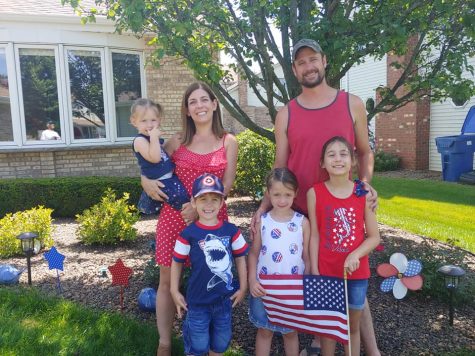 "They'll never last," is the only response heard from students and adults who hear about a young couple in high school. They automatically assume that once the 'puppy love' is over, the two love birds will go back to avoiding glances in the hallway. Not only is there a negative support group around the teens, but statistically speaking, 2% of high school relationships end in marriage, according to mensdivorce.com. Teenagers are being constantly told that their relationships will never work, but four faculty members have proven that sometimes high school sweethearts do stay together.
"We were both involved with music; both in band and choir," Nathan Rancatore, choir teacher, said. He has been in a relationship with his wife for 12 years. Rancatore says experiencing life while growing up strengthens the bond.
"If it's meant to happen, it's meant to happen. Relationships should be organic," Rancatore said. He believes teens today see and want the perfect 'high school sweetheart' relationship and they strive to achieve that. He suggests not to put a timeline on the relationship, because it could end in disappointment.
Asheley Kram, Spanish teacher, and her husband have been together for 20 years, 10 of which they were married, and have two young daughters.
"My best friend made a bet with another friend that we wouldn't last two weeks.  At our wedding, she was my maid-of-honor.  In her speech, she said she had never been happier to be wrong," Kram said.
She says she wouldn't have listened to any advice in high school and some things are best learned from experience.
"We supported each other through hard times and celebrated accomplishments together which helps a relationship grow stronger," Kram said.
Robert Richardson IV, English teacher, and his wife have been together for 19 years, have been married for over 10 of those years, and have four children.
"The majority of our relationship was long distance. We lived about 30 minutes apart and only saw each other on weekends; this was also the time before cell phones, so all contact was done through the land-line phone or Instant Messaging on the internet," Richardson said.
Richardson says they have lost close friendships with some people because they didn't support the relationship positively.
"It's definitely not easy to do any of that; but if we wanted to maintain our connection, they were steps that needed to be taken," Richardson said.
Richardson says people should not post their relationships online. Being open and honest with a significant other is key.
"Be who you are but understand that there are two people in the relationship, each with their own thoughts and feelings. Relationships are NOT easy, but they are definitely worth it," Richardson said.
Jason Held, special education teacher, met his partner by being on the basketball team while she was on the cheer team. They've been together for 20 years. He said both their parents influenced the relationship because they're also high school sweethearts, along with brother-in-law, Richardson.
"Don't dive too far into it, but also don't brush it off. It could happen or it might not," Held said.
On the other hand, there are some student that aren't listening to the statistics and believe they'll be together forever.
Collier Hanks, senior, has been with Julia Egly for over two years and sees a future with her.
"Her parents are engaged high school sweethearts and we believe we can easily make that happen as well," Hanks said.
While some high school couples do not make it through the first couple of months, others have found ways to stay together even with everyone saying otherwise.
"We are both going to the university of Saint Francis, so we plan to continue [the relationship]. Whatever is meant to happen, will happen," Haley Willner, senior, said. Willner has been with Ryan Daly for three years.
For some couples, being together for only a few months is how it's meant to be. But for high school sweethearts, the end goal is a happily ever after.