BREAKING NEWS: Two unannounced lockdowns create confusion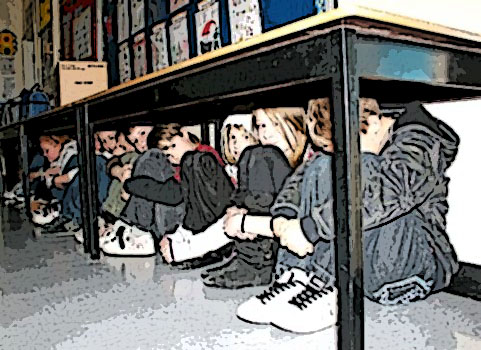 For two consecutive days students and staff experienced surprise, early-morning lockdowns, as a result of an issue with the alarm system. At approximately 6:50 a.m. on Wednesday, the alarm was triggered. This sent the school into a lockdown for twenty minutes before releasing everyone back to their first period classes. On Thursday the lockdown alarm system went off at the start of second period.
"We have been working with ADS and our technology department and we believe we found and solved the issue with the false lock downs the last two days. We want to recognize and commend our students and staff for their outstanding reaction during both lock downs. Sorry for any inconvenience that this may have caused," administration said in a released statement.
During Wednesday's drill, multiple students were stuck outside waiting for the all clear. Some students like Juan Rosales, senior, noticed that the school was under a lock down and went back home. Other students such as M. Battles, senior, who had just gotten to school when the building went on lockdown, choose to stay.
"A small group of people and myself were told to come in and sit out the lockdown in the office. I did not end up going in. I'm not sure if it really would have been safer to be inside or outside but it felt like a weird decision to me since the threat [was] assumed to be inside the school," Battle said.
Senior Destiny Basham's grandma works as a lunch lady in the freshman cafeteria. Her grandma was also confused on why she was not allowed in the building, not knowing what was happening. Basham noticed multiple police cars on her way to school.
"We [her and her boyfriend] could see a bunch of students flooding from the front entrance of the building. We stayed in the car. It was strange with nearly every student that I passed up talking about what just happened," Basham said.
English teacher Karen Walker was one of the faculty members who was also outside.
"I thought it was better to remain outside, yet knew staying outside would mean that I wouldn't know what was going on inside," Walker said. "I thought sitting in the bus was better than my car since the radios the drivers carry could give us some information. It was easy to see the building was secure and pretty quiet very quickly; I felt that this was a mistake or an accident more than a dangerous situation."
Not all the students who came on buses could stay on the buses because of scheduled routing, so students were instructed to sit in the bleachers in the stadium for about five minutes before being loaded back onto two new buses and waiting for the all clear.
Any other alarms that go off should be taken just as seriously according to Principal Dave Stephens. Since the incident, the alarm system has been repaired and there have been no additional unannounced alarms.