Castor, Touminen join staff
Hang on for a minute...we're trying to find some more stories you might like.
Students and staff welcome two new faces to the campus, and both bring a different dynamic.
Melissa Castor, Spanish teacher, originally set out to become a journalist and then ended up working as a retail saleswoman. However, after working with high schoolers while coaching she decided that helping students is what she wanted to do.
"There is something really special about seeing a young adult go to adult and seeing the maturity level rise," Castor said. "Seeing students be successful is very fulfilling."
Castor has had much support from the Spanish department with transitioning into a full- time teacher, taking over Mary Gucinski's position.
"I know she is very enthusiastic about this position, and I think she will be a great addition to the department," Kelly Hurcl, Spanish teacher, said.
According to Spanish teacher Xiomara Cole, working with Castor is wonderful because she is always sharing her ideas, and Cole loves that she is now part of the Spanish department.
Castor isn't the only one who had career changes, new campus monitor, Benjamin Touminen, is an active duty Air Force veteran.
"When I separated from the Air Force I moved to the Quad Cities in Illinois, where I met my wife, and I stayed at home raising my three daughters for nearly 10 years," Touminen said. "I'm currently enrolled at Ft. Hays State University and am preparing to start my masters in history."
Being back in a school setting may remind him of his earlier plans.
"I had wanted to be a teacher when I was in high school, but I never took my education in college seriously the first time around," he said.
While he's here, he wants to get to know the community.
"I am a very laid back person. Don't be afraid to come up and say "hi", or ask a question or just generally chit chat."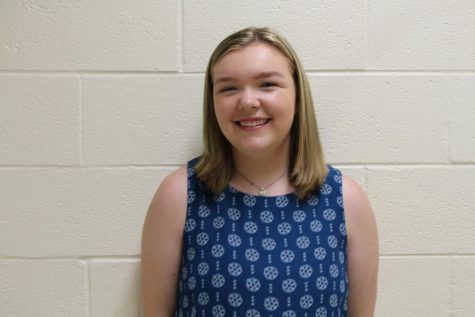 Abby Blazevic, Opinion Editor
Hey! I'm Abby and this is my second year on the Fielder staff. Go Wildcats!