Contributions of African Americans inspire recognition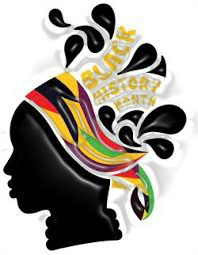 When most people think of February, Valentine's day of course comes to mind: Chocolate, Flowers, Corny Romance movies, the month of Love. What's surely lacking in love is the recognition of Black History Month.
February 1st starts the month-long Celebration of African Americans. It is known to symbolically represent and honor black people for their work, history and culture. However, Black History Month is often overlooked or forgotten.
"Unfortunately, it is not talked about a lot in our families, so many young ones are not educated on what happened." Xiomara Cole, Spanish Teacher said.
In a world where African Americans were not always celebrated – they were once discriminated against, beaten, and called horrible names – many feel the month is essential in paying homage to those that lost their lives in the Civil Rights movement and even years before then, when African Americans were once slaves. Black History Month was established in 1926 by Carter G. Woodson and was originally just one week called "Negro History Week." The month of February was chosen in appreciation of Abraham Lincoln and Frederick Douglas, whose birthdays are in that month. The symbolic event was later extended to include the whole month.
The kinds of freedoms like choice of seating on a bus, are thanks to the obvious but still important Martin Luther King Jr. and Rosa Parks. Nevertheless, there are many Black leaders who are disregarded, many of whom are not covered in schools today. There are more people that have contributed to civil rights that have floated to the background.
"The history is watered down. It's up to the parents to help their kids understand and appreciate their black heritage and to not be misled by the negative comments," Cole said.
Information is usually repeated, and new information is rarely learned in schools today. For example, English Teacher John Hill feels Desmond TuTu is someone who is not covered at all. TuTu is one of South Africa's most known human rights activist with his efforts in ending apartheid. He is also a recipient of the Nobel Peace Prize; however, most students do not know who he is.
"There are lots of other black leaders that aren't as recognized as others, but that happens in every aspect of life. That doesn't dismiss the contributions they have made to their community and to the country," Mark Hudson, physical education teacher, said.
Regardless of whether they are recognized, others could take the time to explore a new African American Historical figure and their accomplishments this February.
Today African Americans are prospering more than ever, regardless of past trials and tribulations. They have overcome adversity and can be recognized as some of the biggest names today.
For example, Beyoncé, is a multi- billionaire, multi-Grammy winner, and International professional singer. Oprah Winfrey is another multi-billionaire African woman who celebrates her melanin and encourages others to as well. Former President Barack Obama being an African American as the highest ranked figure in America is a huge milestone for the Black race and culture as a whole.
Even young influencers are making a stand, like Yara Shahidi. She's a young actress who uses her platform to talk about important issues and embracing one's melanin.
The world is not fully absent of racism, prejudice, and full equality for all people of different shades. However, it has gotten a lot better. People of all colors are striving to make the world a better place, and to reach the point of peace. Taking the time to acknowledge the acts and tactics of African Americans back then can be an inspiration to others to possibly use them today, not to mention the fact that Black History Month is a national observance.
"I think it's nice for us as a nation to recognize the contributions of the black people in this country," Hill said. People can all help Black History Month truly fulfill its purpose.
"Be proud of who you are, make your family proud by your actions, and fight with kindness!" Cole said.