Young team works to be competitive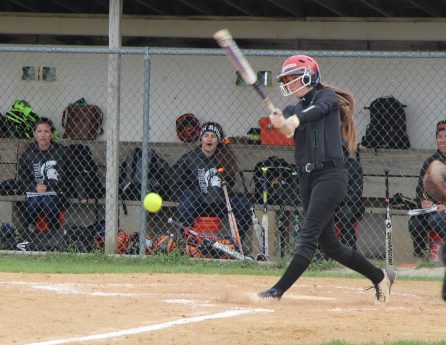 Girls' varsity softball hits the season with a great start and have kept the ball rolling with a 28-12 winning season.
"Our ultimate goal is to be a team that can win state, and we are putting in time and effort to get there," junior Alejandra Ochoa said.
Every team has to overcome obstacles throughout the season.
"We are a pretty new team and have not all played with each other, but now we are all comfortable with each other," junior Brooklyn Daly said.
Despite adversity among the team, the team has played well throughout the season.
"On the field I think we preform pretty good together. Every once in a while we have our ups and downs, but we help each other bounce back. On and off field we are always having a good time, and that's what helps our performance improve as a whole," Ochoa said.
Emotions are a major factor in the performance of the players. When other Plainfield schools are at a game, emotions tend to stir up.
"We try to address each opponent with the same demeanor. Of course they want to beat the other Plainfield schools, but when emotions become a big factor it diminishes performance," head coach Anne Campbell said.
Being competitive is one area where the team needs improvement. Players have to be physically, and mentally sharp to maintain consistency throughout the game.
"This team has struggled at remaining competitive every game. There are some games we came out full of energy and ready to play. Other games we're not as energetic and competitive, so we need to remain competitive at all points in the game," senior Brianna Blaskey said.
Although softball is a team sport, each athlete also has goals.
"My personal goals for this season are to have a better attitude and become a better player overall. With the help of my teammates, I know it is something I can accomplish," Ochoa said. This team has done well for starting off the year with more than half of the seniors gone. Mental sharpness is what kept them afloat.
"Confidence and consistency are the keys to us being successful. When we execute, good things happen, and when we lose confidence and fail to execute, we struggle," Campbell said.
"Our season is not over, but hopefully we get to where we want to be by the end of it," senior Sammy Sabor said. The girls had a tough match against Minooka last month.
"I think the hardest match was against Minooka, because they have a pitcher who throws a good riseball that is tough to hit," Daly said.
Girls' varsity softball will have an opportunity to compete with Minooka again tomorrow at 4:30p.m. at Minooka.