Influx of new memebers enriches staff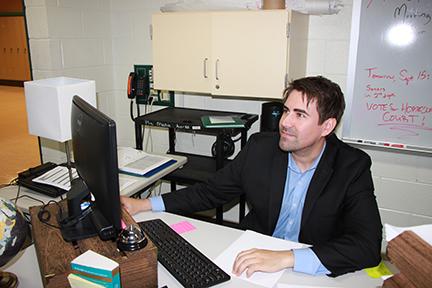 Emily Graf & Xitlaly Viveros, Staff writers
September 21, 2015
In addition to all the new students, 17 new faculty members have started the year with anticipation.
Jessica Baron, art
Art teacher Jessica Baron originally studied to become a graphic designer at JJC, then later transferred to the University of St. Francis to become an art teacher because she "wanted to do something that had a greater impact on people."
She was inspired to become a teacher by other teachers she's had in the past.
"I've had some fantastic teachers who have helped me out a lot in life," Baron said. Similarly, she seems very willing to help her students.
"I'm very patient, always willing to be flexible with students," Baron said. So far Baron really likes the students at Plainfield Central.
"The students are extraordinary," Baron said. "They're very diverse and involved."
In her free time she likes to attend a lot of concerts, preferably rock concerts due to her passion for rock music. Baron also enjoys activities that involve being in nature, like biking and hiking.
Ashley Krause, English
Before English teacher Ashley Krause decided on an English major she was planning to go to law school. She worked as a tutor and enjoyed her job, which also helped to pay for college. Krause finally decided to become a teacher while attending school at North Central College in Naperville.
"I Loved it there," Krause said. "I had some great professors."
Unlike most English teachers, Krause wasn't always a bookworm.
"I didn't become an avid reader until I was about 18 years old," Krause said. "After reading The Great Gatsby I was totally hooked!"
Krause likes how the community is really involved at Plainfield Central.
"Plainfield Central is the jewel of the town" said Krause. She is an assistant coach, and the junior class student council sponsor.
"I like to be involved in the school," Krause said.
Melissa Bird, Spanish
Spanish teacher Melissa Bird was inspired to teach a foreign language by her former Spanish teachers.
"I had some really awesome Spanish teachers in high school," Bird said. Not only does she like the language but she also really likes the culture. Bird had the opportunity to study abroad in college her junior year. She stayed in in Spain for 10 months and really enjoyed it.
Although Plainfield is quite different from Spain, Bird really enjoys the school spirit. She also appreciates the students for "constantly asking questions" because it shows that "many of them are eager to learn."
"The kids put a smile on my face every day," Bird said. "Learning a new culture and language is fun."
Holly Boersma, PE
Physical education teacher Holly Boersma enjoys driving a Harley. She was a physical trainer before she became a P.E teacher. After having two kids, she decided that she needed a more family-friendly job where she could still have time to spend with her two children.
Her love for children is what really inspired her to become a teacher.
"I want to be the type of teacher I want for my kids," Boersma said. She encourages her students to get involved.
"Get to know as many people as you can," Boersma said. "Embrace the diversity."                                      Guidance counselor Matt Kantor lived in various different places, such as Massachusetts, Connecticut, and Texas. Kantor said that his father is a doctor, which is why they moved around a lot.
"My younger brother had a hard time in high school; he was bullied," Kantor said, "This inspired me to be a guidance counselor because I wanted to help people, and be there for people."
"People always came to me with their problems because I like to listen, and help other people out," Kantor said.
"It's also very important not to bring your work home," Kantor said, "It's hard. There's lots of people that you want to help but you can only do so much." Kantor now lives in Plainfield, has a girlfriend, and coaches sophomore football.
Jared Hannon, algebra
Jared Hannon is an algebra I teacher, although he was not always a math teacher. For 15 years prior to his degree, he worked in sales, computers, and even an assistant electrician.
"I always hated math in high
school," Hannon said, "I was terrible at it." Hannon also states that he was never athletic or academically sharp.
"I was very average in high school. I didn't even know what I wanted to do after high school besides becoming a part of Van Halen," Hughes said. When Hughes was 35, he attended Lewis University to get his master's degree.
"When I went back to school, I had three great teachers and I was a much better student. Math was a lot less intimidating." Now that Hannon is a math teacher, he currently lives in Plainfield with no family, but he is extremely close with his mother, and sister.
David Hughes, Special Ed
After five years of subbing in a different district, David Hughes, Special Ed teacher, is a teaching assistant in English.
"I always like to make sure that all students are trying their best and that everybody feels included." Hughes said. Hughes grew up in St. Charles IL, and attended North Central College in Naperville, getting a Bachelor's degree in arts & social studies.
"I wanted the ability to reach more students," Hughes said, "I had a good principal who encouraged me to pursue Special Ed."
Hughes has been collecting comic books since he was 11, and said he was a huge nerd in high school.
"I loved high school" Hughes said, "Although I was nerdy, high school was a lot of fun. Within my group of nerdy friends, I really found out who I was."
Hughes said that he is still very close with his immediate family, especially his brother. He moved to Plainfield because he attended college in Naperville. Today, Hughes lives in Plainfield with his girlfriend, dog, and cat.
April Seef, speech pathologist
April Seef is a speech pathologist, who just graduated from college in May. Seef helps kids with speech impediments, fluency difficulties, and higher level thinking.
"I had an internship at Aurora Hospital, where I was trained and learned about communication and swallowing disorders," Seef said. "Being a speech pathologist branches out to education and the medical field."
"All students have goals in IEP, and I target their goals, and try to help them achieve them," Seef said. Seef goes into classes where kids need lots of extra support.
Seef grew up in Orland. While she was in high school she ran track and was a dancer. Seef likes to exercise, and really likes movies. She is close with her immediate family.