Music department bids seniors farewell
Hang on for a minute...we're trying to find some more stories you might like.
"Along the way they have created many strong and lasting memories. I think it is important to reflect on these memories – to be happy and thankful for the time we have had together," Patrick Hoadely, band director, said.
As both the band and choir directors put it, saying farewell to the seniors is a way to recognize their contributions to everything they've accomplished in these past four years. They each have specific ways to send the senior classes off.
Back in 1987, Dan Valkema, band director, started the tradition of playing a piece called "Irish Tune for County Derry" at the end of every spring concert.
"I got the idea of doing a senior tribute piece about 30 years ago from another director. I didn't want to do the same piece he did but wanted to do something equally beautiful and emotional," Valkema said.
More recently, choir has begun a few traditions of their own. When choir director Nathan Rancatore came to Central he started a potluck, allowing students to be recognized and win awards.
This was something his high school had done and had "made an impact on all of [the] graduating seniors."
The choir also recognizes all the seniors during their final concert. To close out the concert the entire choir surrounds those in the class of 2018 and sing "Set Me as a Seal," a song that represents love and the strength it provides even when everyone is apart.
Students see band and choir as a family, a place where they are most comfortable. Many of the members believe that it is their fellow classmates they will miss most.
"The people are the best part," Sylvia Knight said. "They are some of the best people and we all make one big giant family."
"I remember laughing and messing around during sectionals with my friends," Alberto Corral president of choir, said.
This senior class has made an impact on band, equally as much as band has on the students. Valkema recounted that they are the smallest graduating class but is also one of the "most caring, dedicated, committed classes that I can remember. These students have provided outstanding leadership and role modelling for band."
Senior Sarah Hlade is just one example of that.
"I was in a leadership position this past year; I always tried to make sure everyone was included," she said.
For Corral, his four years in choir has lead him on a career path: music education.
Band plays a large role in the students' lives, so much so that after high school Hlade plans on marching in the Big Red Marching Machine at Illinois Southern University, and Knight is going to try and get into Iowa State's band.
The same can be said for those in choir. Katherine Hahn-Boisvert, choir vice president, plans on doing Madrigals and various types of community theater around the Dekalb area while she is at NIU.
"Although I won't be majoring in music or theater in college, I definitely intend to be a part of their organizations. Music has been a part of my life since before I could walk; I just can't imagine life without it," she said.
As the end of the year draws near, seniors have mixed emotions about leaving. Of course, there was sadness, no one is truly ready to be leaving their "family."
"I'm proud of what I accomplished these last four years," Corral said.
"These students not only continue to learn and challenge themselves, but they are a dynamic group of leaders that show hard work, dedication, effort and teamwork go a long way," Rancatore said. "It's been unbelieveable to see the growth of these students."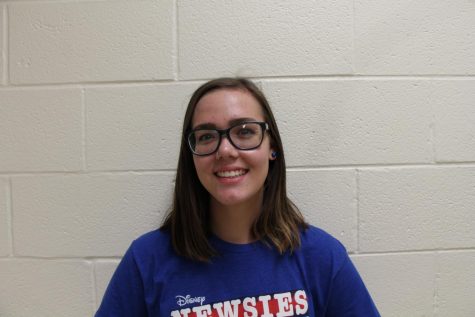 Abbey Dissette, Feature Editor
This is my second year on the Fielder staff. I am looking forward to expressing my creativity as your feature editor this year. Besides journalism I am...